The keystrokes above will bring you to the screen below.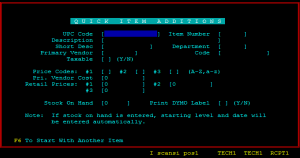 This is your Item File. Input the appropriate information. (The more information you input, the greater the reporting capabilities.) (When your cursor is in the UPC box, you can scan the UPC code with the provided bar code scanner.)
Once all the appropriate fields have been filled in, press "ENTER" to save.
---